A bit about us.
About us. Un-leash the grease! Formula 88 is the original, highly effective, multi-purpose degreaser, cleaner, rust stain remover for your home, shop, auto, engine, boat and/or projects operated and owned by Petruj Chemical Corporation for over 30 years. Our main objective is to satisfy customers with a versatile cleaner degreaser that cleans, degreases and deodorizes using environment-friendly, bio-degradable, non-flammable, non-hazardous and non-corrosive chemicals safe enough to use in your home, yet strong enough to clean your office, auto, engine and boat!
Our unmatched cleansing technique to make lives easier and deliver the best results is a mix of decades of experience and innovation which has secured a place on the shelves of millions of homes, garages and offices nationally and internationally.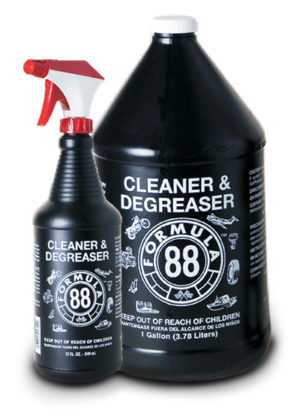 Can be used on.
Bathroom / Kitchen Tiles
Rugs / Carpet
Grill
Lawnmowers
Bikes
Driveways
Car Rims
Cooling System
Boats
Motor Engines
Vinyl Seats
Propellers
And More!
See for yourself what over 30 years of experience does to your "tough" grease. Order today!